Contents
Searching
Vendor Profiles
Important Note
All information on vendor profiles has been supplied by the vendors themselves. You must carry out your own due diligence to ensure the description is accurate and reflects the needs of your organisation. By using this facility, you accept full responsibility for verifying the suitability of any vendor whose services you might subsequently take up. See the About page for more details.
How To Search
The search features are easy to use but allow some complex combinations of criteria to be specified. Each series of related questions is grouped into headings: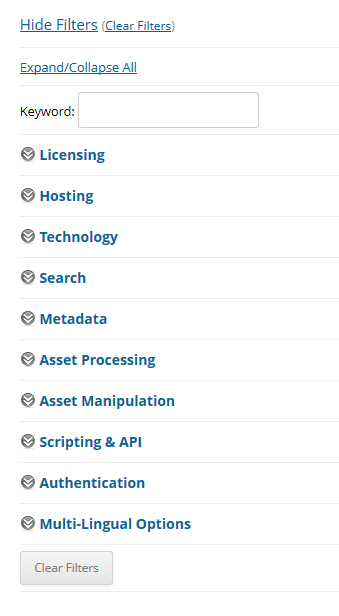 Click one of these to open it up. Choose options which match the products you are looking for. In brackets after each criteria is a list of the total vendors who have the feature. As you select each option, the list of vendors will be filtered.

As well as criteria searches, you can also enter a keyword.

Viewing Vendor Profiles
When you have found some vendors that might be suitable, click the link to their profile. Each vendor profile will contain a link to the vendor's website and might also include further links to Twitter feeds, RSS news feeds, Facebook etc.
Bookmarking Searches
Registered users can return to a search by bookmarking the link to a search that appears next to the results summary(or pasting it into an email etc).

When the URL is clicked, the search will be re-run and you can modify it further.
Datasheets, Videos, Screenshots
Vendors are permitted to upload screenshots, datasheets and link to YouTube or Vimeo videos. These are accessible to registered users only.
Notified Downloads
For selected datasheets, the vendor has the option of requesting a tracking alert to be sent if a user accesses them. You will be warned if that is the case and you can decide to proceed or cancel (in which case nothing will be sent to the vendor). The vendor is given your name, email address, document downloaded and the time of the request.
Vendor Profiles
The information below is only of relevance to vendors who are considering setting up a profile.
Creating Vendor Profiles
If you are a vendor, you can create an account by registering as a member first and then creating a vendor profile:

Once you create a vendor profile you will be presented with a list of questions to complete. Some questions are required, others are optional. The more detailed information you are able to provide about your DAM solution, the more likely you are to get enquiries from prospective end users.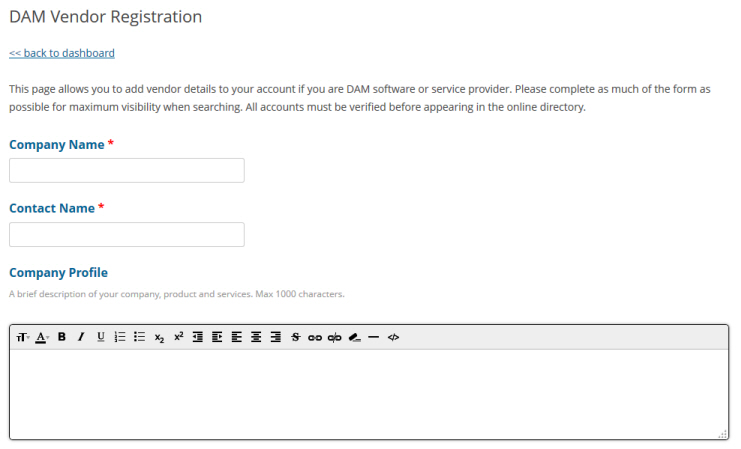 A PDF document is available that explains the vendor registration process in more detail and the various options you can enable. You must be a registered member first before you can access this.
Types Of Question & Required Response
Many questions are simple checkboxes with an option to add further clarification notes. Some fields such as your profile are HTML based and these can include additional links.
Adding Screenshots And Files
Apart from your company logo which is uploaded when your vendor profile is created, other options to add screenshots, videos and data sheets are available once your basic profile is first saved.
Approval Process
Once your initial profile is submitted or you make any changes, your profile must be approved by a DAM Vendors administrator. If your profile is new, it will not be permitted to go live until it is approved. If you have an existing profile, any changes must also be checked, however, you existing profile will remain active.
Member & Vendor Relationship
All vendors must be registered members of DAM Vendors. If the person responsible for your vendor profile leaves your business, you can request that a new member is assigned to have editorial rights over your vendor profile. Please contact us if you need to do that.